Today is officially the last day of winter so we can, with any luck be a little more optimistic about the weather and indeed publishing developments. There have been some interesting unfoldings in the industry since our last roundup where things have been looking up ,relatively speaking on the home front. Indie publisher Poolbeg Press  has expanded their operations to publish its first title The Friday Tree by Sophia Hillan under the new imprint Ward River Press while Liberties Press launched their new bookshop upstairs in their Terenure premises. The new Books Ireland is set to open its doors again after its near-demise as Wordwell will launch the new face of the publication next week in Dubray Books with what is certain to be good turnout. Meanwhile the big reward has finally some to Stinging Fly's Mary Costello who, after having won much in the way of prestigious writing awards but who has been a little slower to burn than the likes of Donal Ryan, has secured a lucrative book deal with Indie UK publisher Canongate Books.  Big congratulations are in order as well for the five Irish bookshops shortlisted for the Bookseller Industry Awards which are Bridge Street Books Wicklow, O'Mahony's Booksellers Limerick, The Blessington Bookstore Blessington, The Gutter Bookshop Dublin and Whyte Books County Cork. Best of luck to all!
In the minus column for Irish industry news, Hughes and Hughes's figures continue to decline reflecting  a striking parallel with the health of UK and Irish (and indeed global) indie book chains in general. The Bookseller reported only last week that indie bookshops in the UK had fallen in numbers to fewer than 1,000 for the first time (http://www.thebookseller.com/news/indie-numbers-fall-below-1000-first-time.html). In further bad news, Nielsen BookScan figures are showing a steep enough decline in sales. The Irish Consumer Market (ICM) is down over 14 % on last year with Fiction bearing the brunt of it with a drop of over 18% while Non-Fiction suffered a 14% decrease. The Children's category is showing the least drop  though figures are still down 9.9% on last year (Via Nielsen BookScan).
Launches and Other Happenings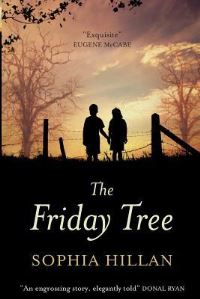 Poolbeg Press launched first title The Friday Tree by Sophia Hillan under the new imprint Ward River Press while Merrion launched War in The Shadows: The Irish-American Fenians Who Bombed Victorian Britain by Shane Kenna in the Teachers' Club, Parnell Square. Haiku, más é do thoil é! by Gabriel Rosenstock, published by An Gúm was launched last Friday by Alan Titley as part of the literary event organised by IMRAM in the Irish Writers' centre
Beyond the Shore: Amazon Apps, EC Obstacles and Rising E-Book Sales?
Amazon has, unsurprisingly graced the industry pages over many occasions this month. Among these items rank the controversial proposition for the so-called 'point and grab app' in which the user will be able to point their device at a book in any bookstore and buy it instantly while the online giant may also soon be offering physical retailers a checkout system that would use Kindle tablets to process payments as well as mobile payment systems along the lines Paypal and Square (Via CNET. To read the full article, go to http://news.cnet.com/8301-1023_3-57618037-93/amazon-eyes-payments-biz-with-kindle-checkout-system-report/ ) To add to the flames, France is not intending to take any of these developments lying down as it moves forward to ban its proposed free delivery of books though the EC have delayed this action by several months while it considers the implications of the new bill. In other news, UK publishers are reporting strengthening international e-book sales- a trend which is going against flattening sales of physical books and one which is also happening in Ireland according to a piece in The Bookseller ( http://www.thebookseller.com/news/publishers-enjoy-surging-e-book-export-sales.html). Finally, in a piece of interesting news this month, Little, Brown Books bought indie publisher Constable  & Robinson.
The Publisher Blogspot: 
Apple's Continuing Woes; Predicting Amazon and Bookshop Developments Post Disaster
'Why Traditional Publishers Should Surrender to Self-Publishing'
Ever the controversial voice, Eoin Purcell writes an interesting piece on the dynamics of self-publishing in the face of traditional publishing models:
 http://eoinpurcellsblog.com/2014/02/21/why-traditional-publishers-should-surrender-to-self-publishing/
Apple to Pay 840 Million in Damages?
Check out this piece in Publishers Weekly on the infamous Apple suit and what it should be paying:
 http://www.publishersweekly.com/pw/by-topic/digital/content-and-e-books/article/60904-class-plaintiffs-apple-should-pay-840-million-in-damages.html
What do We Do if Amazon Stops Growing?
An Interesting blog on other possible outcomes of the Amazon monster in FutureBook:
 http://www.futurebook.net/content/what-do-we-do-if-amazon-stops-growing
Quercus and Waterstones: Reaping the Rewards of Cutbacks:
The IPG had a good piece on how Waterstones was benefitting from its austerity measures while Quercus fell by the wayside: